This wasn't the part of the plan. This was never inside my imagination. Never once. Never once i thought of studying this major.. Until today..
It was at fifth of June, the day finally came. Even though i already knew what major i'll be in, it still made me happy that i was admitted into
Ocean Engineering
Now it's all clear, my foot is set on here. Now i have to make a, grand design, of what am i going to be, what am i going to do in the future. I have many plans in my mind, but i'm going to tell you just a few of it.
Plan A : Offshore Engineer
Well, i choose this offshore engineering because, it's cool man! it's pretty cool! Designing a massive floating oil rig, living in there, far away from home. Damn, it sounds pretty impressive for me! And another reason is, Money. Yeah, i heard a lot about how this job pays tons of money. Seriously. Look at this brochure i got from google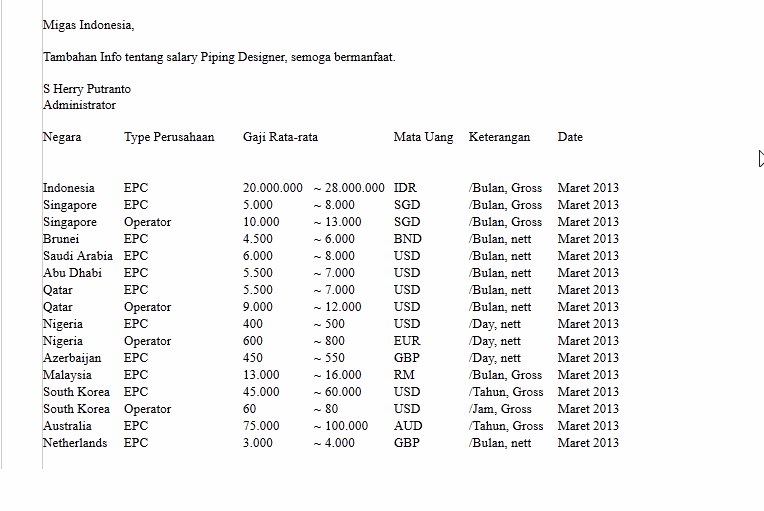 Source : https://www.kaskus.co.id/thread/5199d5fee474b4f47a000008/oil-amp-gas-civil-amp-structure-designer/1
Annual salary in dollar. Source : https://oilindonesia.wordpress.com/2010/10/18/tingkatan-gaji-di-dunia-migas/
See? But i do realize that it would not be that easy to be hired in such company that offer high salary. So i must work harder so that i can have the skills i need to become an Offshore Engineer. Now how do we measure our hard skills? By grades. Yeah. I'm gonna nail every subjects here
Far from what i dreamed before, informatics. But now this is my primary objectives. Get an A or at least AB on every subjects here
Well, that's my plan A.
Plan B : Onshore Engineer